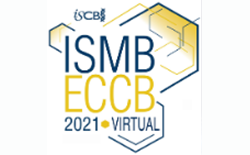 On 25-30 July 2021 PerMedCoE's participated actively at the 29th Conference on Intelligent Systems for Molecular Biology and 20th European Conference on Computational Biology (ISMB/ECCB 2021). This year's edition was online due to the Covid-19 pandemic.
During the entire week, PerMedCoE had a virtual booth with short talks followed by a live Q&A session. A total of 88 conference delegates interacted with the project's booth thanks to the short talks given. The recorded presentations  can also be visualized at the dedicated playlist on the YouTube channel.
"Participating at the ISMB/ECCB2021 conference has allowed PerMedCoE to give visibility to the latest updates of our Center of Excellence as well as engaging with new potential contacts from the computational biology field", says Arnau Montagud, BSC researcher at PerMedCoE.
PerMedCoE had also a good representation within the Education COSI track, where our training expert Marta Lloret-Llinares from the European Bioinformatics Institute (EMBL-EBI) presented a poster titled "The PerMedCoE competency framework to guide the training programme" on Monday morning with almost 40 interested parties. On Tuesday afternoon, Vera Matser (EMBL-EBI) participated in the panel titled "Online and hybrid education post-COVID" where she also mentioned the work done in the training task within the project.
Within the 6th Annual SysMod Meeting that was also taking place as part of the ISMB/ECCB 2021 program schedule, our partner Marco Ruscone from Institut Curie gave the presentation titled "Multiscale model of the different modes of invasion" on Thursday morning. "HPC is essential to scale up computational biology projects to have real-sized simulation. In fact, some of the interesting presentations presented in SysMod will need to be distributed if they are to be scaled up", continues Arnau Montagud. On Thursday afternoon and as part of BOSC 2021, Miroslav Kratochvíl from the University of Luxembourg presented a poster titled "Interfacing systems biology standards with the Julia ecosystem" .
On Friday and as part of the technology track, our BSC researcher José Carbonell-Caballero gave the presentation titled "PerMedCoE: A roadmap to scalability in Personalized Medicine". This presentation was very successful, as the attendees had the opportunity to learn about the most important tasks of the project, focusing on the selected core tools and the main refactoring strategies we are following to increase their performance and scalability. In addition, a brief description of the selected use cases was made, showing some preliminary results of the COVID19 use case. The full slides are available here.
All the above mentioned materials will be available on the virtual event's platform for all registered attendees for the following months.