The PerMedCoE consortium got together for the first time after the kick-off meeting on 13-14 May 2021. The main objective of the meeting was to share and evaluate the work undertaken in the first six months of the project, and to identify challenges and align strategies for the forthcoming months.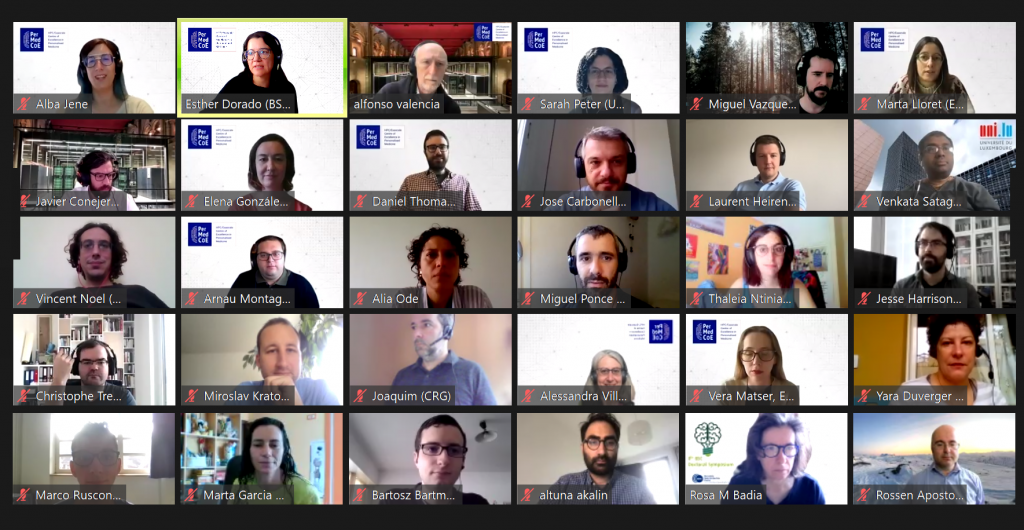 After the welcome and introduction to the project status by the coordinator Alfonso Valencia (BSC), updates on the project's management, communication, training and sustainability were provided. The agenda for the first day also included presentations on data protection & ethics and software benchmarking & user communities engagement. Representatives of sister centres of excellence Bioexcel, CompBioMed and POP were invited to participate in a session devoted to find ways to strengthen collaboration.
The second day focused on the more technical work, with presentations of the developments in each of the four core applications of the project. An introduction about the plans and ongoing work on workflows and on the guidelines for building containers was also given. It was followed by an overview of the work undertaken on the project's use cases. In addition, a satellite session was held with the aim to get feedback to complete the PerMedCoE competency framework.
Thanks very much to all the team for attending the meeting and contributing to the project's progress. Looking forward to our next get-together!