Stepping back from the idyllic haze of summer vacation, we are reflecting on our last couple of months and sharing a recap of the summer activities with an invitation to join the upcoming ones so don't miss the end of the article!
The summer highlights are undoubtedly the Summer School on Cell-level Simulations and the Symposium on Exascale Readiness of CoE Codes at the PASC23 Conference in June, as well as the ISMB/ECCB 2023 Conference in July.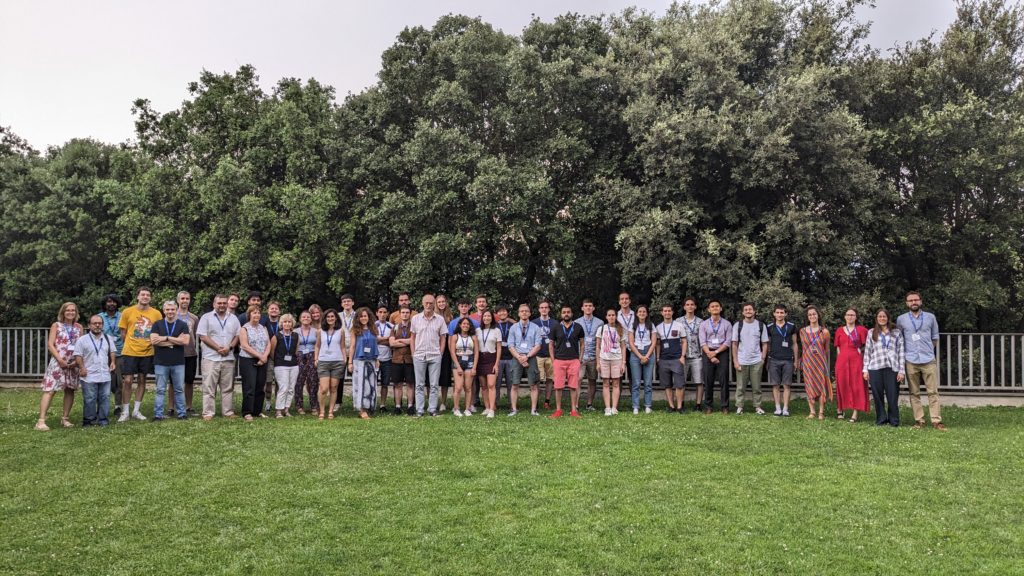 What is the value of learning and networking events? Workshops and seminars play a pivotal role in fostering personal and professional growth by providing immersive and interactive learning experiences. These platforms serve as dynamic spaces for individuals to acquire new knowledge, refine skills, and engage in thought-provoking discussions.
They are pivotal in the science and technology sector, ensuring continuous advancement. Learning events facilitate the exchange of cutting-edge ideas, foster collaborations, and provide hands-on training. In this rapidly evolving field, these events enable professionals to stay updated with the latest breakthroughs, emerging trends, and innovative techniques. By promoting skill development and knowledge sharing, workshops and seminars accelerate progress, drive innovation, and equip individuals with the tools to tackle complex challenges effectively.
Furthermore, these gatherings facilitate networking and collaboration. Participants from diverse backgrounds come together, sparking meaningful interactions and the exchange of ideas. Such interactions often lead to the formation of valuable connections, potential collaborations, and exposure to varying perspectives, thereby enriching both personal and professional horizons.
Workshops and seminars serve as catalysts for innovation. By exposing attendees to cutting-edge trends, emerging technologies, and novel methodologies, these events inspire creative thinking and problem-solving. Participants are empowered to explore unconventional approaches and adapt their knowledge to address contemporary challenges.
Speaking of participants, we are proud to have met engaging and motivated people who have made our learning events into amazing experiences for everyone. In order to offer a better insight into our events, we are starting a series of blog posts written by the participants of the Summer School on Cell-level Simulations in June. Check below for a new blog each day!
Zuzanna Nowicka, Medical University of Lodz, Poland
The 2023 PerMedCoE summer school took place on the outskirts of the Montseny Natural Park, just outside Barcelona. It brought together aspiring scientists and experienced lecturers and trainers, with the picturesque location setting the stage for an unforgettable experience. Thank to a travel grant from the organizers, I was able to take part in the event, learn and make connections with other scientists. The school included lectures and hands-on workshops, demonstrating the basics of working with HPC clusters and the use of modelling and cell-level simulation tools: CellNOpt, CARNIVAL, COBREXA, MaBoSS, PhysiCell, and PhysiBoSS. Participants had an opportunity to learn about each others' work during two poster sessions. Although my expectations were high, I was suprised by both the scientific level and presentation quality of all posters. We were so excited to talk to each other about our research that most people engaged in discussion even during breaks and long after the sessions conclusion.
One of the most memorable moments was our trip to the nearby mountains. The day started out sunny, with our guide explaining that the current drought caused most local springs to cease providing water. After an hour or so, a massive storm unleashed upon us, drenching us from head to toe. Despite the downpour, our spirits remained undampened. It was a bonding experience like no other. At the end of the summer school, we engaged in group projects that allowed us to apply our knowledge in practice. Although some of them were quite challenging (a quote of 'what we learned' from fellow participant: Life is hard, science is harder, dynamic modelling is terrifying), it was overall a very positive experience as well.
Looking back, the PerMedCoE summer school was an incredible journey. It was an experience that expanded our horizons and left us with lasting connections. To future attendees, I encourage you to embrace the opportunities that is the PerMedCoE summer school. It is an adventure that will help expand your modelling skills, develop personal and professional connections, and leave you with great memories.
Guillermo Climent, University of Valencia, Spain
Attending the 2023 PerMedCoE Summer School was an amazing experience. The contents of the course offered the basics for further designing and performing your resource-intensive experiments by covering from HPC training to scalable modelling tools such as COBREXA.jl or PhysiBoSS. Furthermore, getting hands-on experience with these resources lowers the entry barrier for newcomers and reduces the overwhelming feeling due to the complexity of the setting. Overall, it was an instructive course in which we learned how to deal with scalable experiments and the potential issues that may arise. The trainers were very supportive, too, making sure to help everyone who needed a hand with the basics or solving any issues with the modelling tools. All in all, a great starting point for people trying to get into the field.
Apart from the technical aspects, the organisation and the venue were outstanding. Juanita, Marta and Daniel were beyond supportive and always attentive to any needs and issues that could arise throughout the course, and even before. The hotel, located within the Montseny natural park, offered us astonishing views of the forest and the mountains, a truly impressive sight of nature. In addition to such a great venue, it was a great opportunity to meet other researchers from very different fields, all trying to have a great time learning to use these interesting tools. I would also like to mention the little trip to Viladrau, that although we ended up with more water than we thought, it was a great experience in nature away from the classroom!
In summary, I'm grateful for having received the scholarship to attend the PerMedCoE Summer School. It has been a great experience with great people and I wouldn't mind attending again! I strongly recommend this summer school to all researchers, early-career or not, interested in scalable modelling tools or just curious about new ways of simulating cells and complex systems.
Gemma van der Voort, University Hospital Bonn, Germany
On Sunday the 25th of June, the 30-odd participants and 10 trainers of the PerMedCoE summer school arrived at the hotel Montanyà, in the beautiful mountains to the west of Barcelona. After enjoying a nice welcome dinner and a good nights' sleep, our whirlwind introduction into the world of PerMedCoE modelling and High-Performance Computing (HPC) began. We started the school with inspiring words of welcome by Alfonso Valencia, the director of the Life Sciences department at the Barcelona Supercomputing Center (BSC). After this, our trainers each gave us an in-depth lecture on their respective topics, often complemented by a hands-on session. The topics ranged across many disciplines of systems biology, from metabolic networks with enormous amounts of nodes, over data-heavy signalling models towards spatial models with stochastic boolean agents. The school additionally addressed the vital question; "How to run and share these models", by providing introductions to HPC, containers and workflows. We then immediately put our knowledge in action in a small group project.
The program also gave both trainee and trainer time for short self-introductions, which was a great way get to know everyone and scout out interesting posters. I am glad that, being only a small group, I was able to discuss all posters that interested me in the two poster sessions or in between them. The low threshold for interacting with trainers and the very friendly atmosphere made discussing our posters a great experience.
On Wednesday we went on a hike in a nearby mountain village famous for its fountains, where our guide shared local myths and legends with us. Our water-themed hike took a very watery turn when it started to rain heavily. Thankfully it was not a cold rain, so when we had managed to find shelter and a group picture was made, we could all still smile.
All in all, the course was completely packed with excellent introductions to the PerMedCoE modelling tools and HPC, as well as practical parts on how to work with them. It was intense but highly rewarding, so I definitely recommend it to anyone wanting to work with these tools.
Benjamin Dominik Maier, EMBL's European Bioinformatics Institute, UK
PerMedCoE summer school: from pathway modelling tools to cell-level simulations
In June, I attended the first edition of the PerMedCoE Summer School aimed at making the next generation of scientists familiar with the PerMedCoE modelling tools to perform cell-level simulations. Over the course of one week, we acquired theoretical knowledge and hands-on experience in logical modelling of cell signalling (CellNOpt and CARNIVAL), constraint-based reconstruction and analysis for metabolic modelling (COBREXA), qualitative modelling of biological systems (MaBoSS), and multiscale modelling of cell systems (PhysiCell and PhysiBoSS). Additionally, we discussed high-performance computing (HPC) as well as containers, building blocks, and workflows – before concluding the course with a group project. While my main motivation for attending the workshop (besides the good Spanish weather) was the well-organised and diverse programme covering the PerMedCoE modelling toolbox through complementary theoretical and practical hands-on sessions, it were the organisers, lecturers and participants who made this summer school special. The event was so meticulously planned that it felt like a cakewalk. The instructors were highly knowledgeable and supportive, guiding us through complex concepts and ensuring a productive learning experience. The highlight of the summer school was the opportunity to network with other participants from various fields and backgrounds with a shared interest in systems biology and mathematical modelling. For instance, if we hadn't been asked to leave the poster session more than an hour after its official end, we would likely still be discussing and learning from each other's research.
The organisers had arranged an enjoyable excursion to the Parc Natural del Montseny, where we were introduced to the numerous forest springs and their poetic stories such as the legend of the water women. Not only did we enjoy the refreshing water from the fountains, but we were also drenched by a downpour, adding unforgettable memories to the trip. The camaraderie among participants was further fostered through morning sports, tennis games, evening hikes, and pool games, providing a much-needed break from the intense academic program.
I would like to express my heartfelt gratitude to the organisers of the PerMedCoE Summer School for their remarkable dedication and efforts in curating a stimulating academic program as well as providing me with a travel fellowship allowing me to attend this exceptional event. I would also like to extend my appreciation to the lecturers for their outstanding hands-on introductions, sharing their expertise, and facilitating a conducive learning environment. Finally, I would like to thank the speakers of the career session for their insightful talks, which provided valuable guidance and inspiration for our future endeavours.
Marina Esteban Medina, Fundación Pública Andaluza Progreso y Salud, Valencia, España
Deciphering Personalized Medicine with a unique blend of Learning and Connection at the PerMedCoE Summer School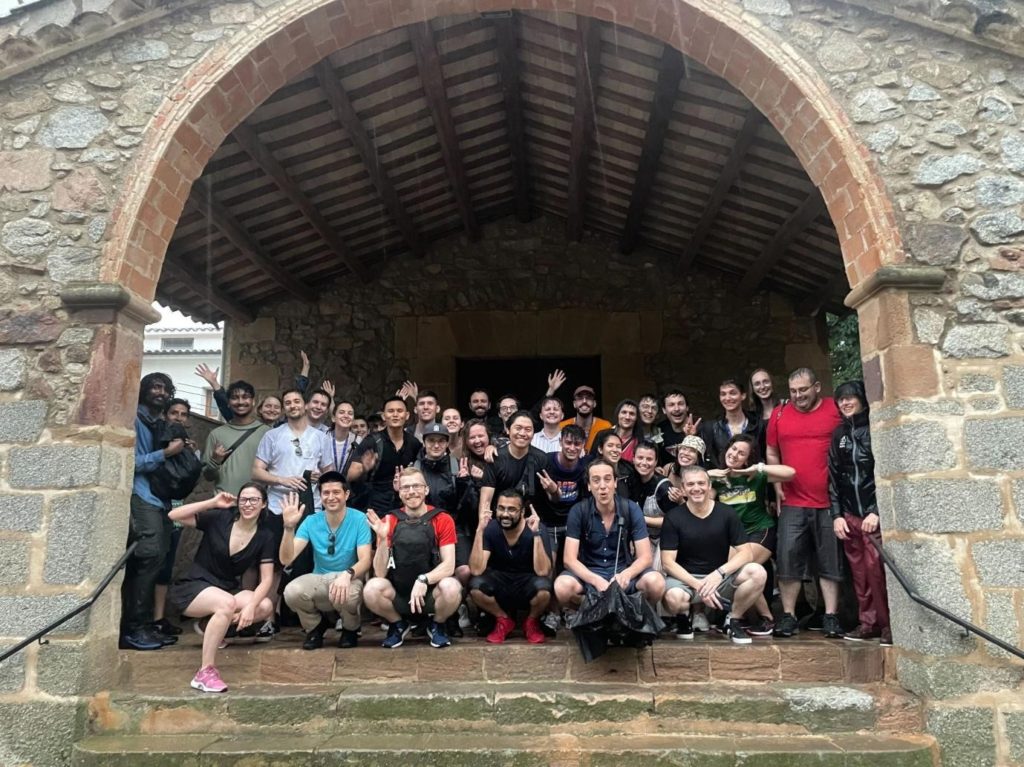 Immersed in the beautiful landscapes of the Montseny Natural Park, the PerMedCoE Summer School offered an exciting five-day journey into the world of biological pathways and cell-level simulations. The event, hosted at the Hotel Montayà in Seva, provided a fusion of the theory behind the range of tools covered, with practical exercises, and an engaging community atmosphere. The range of cutting-edge tools and platforms we explored, along with the hands-on sessions, ensured we were active participants in the learning process. The structure of the course successfully turned the challenging world of personalized medicine into a fun path of discovery and understanding, breaking down the complexities of modelling biological pathways and cell-cell interaction processes into more understandable data-driven concepts and interpretable explanations.
Beyond the academic training sessions and overall program, which were really well planned, a distinctive feature of the PerMedCoE Summer School was the vibrant blend of people it brought together. Each participant, despite our varied backgrounds and experiences, shared a common love for learning and enjoying the process it entails. These varied perspectives enriched our discussions, turning the sessions into exchanges of ideas. Despite our different lifestyles, we discovered shared interests and hobbies, fostering a sense of unity that is not common to find. The beautiful surroundings provided a perfect backdrop for our post-session evenings, filled with shared stories, running routes, laughs, and lively debates. The tour through Viladrau's springs, where we were able to taste and deeply feel the power of Viladrau's water through the skies, was the icing of the cake.
The line between trainers, organisers and participants blurred, replaced by a sense of mutual respect and shared learning. This atmosphere of inclusivity made the learning experience feel less like a rigid course and more like a collaborative journey of exploration. I feel enormous gratitude towards the PerMedCoE community for giving me the opportunity to participate as well as for awarding me a grant to cover my travel expenses. As I look back at my time at the PerMedCoE Summer School, it isn't just the knowledge gained or the skills developed, but the sense of community that evolved. The memories that remain are of the relationships made, the shared passions discovered, and the fostered sense of belonging. The course was a reminder that science, at its core, is a shared pursuit of knowledge, best appreciated when explored with curiosity, passion, and in good company.
Marcin Kaszkowiak, Institute of Hematology and Blood Transfusion (IHT), Warsaw, Poland
For five days in June (26 – 30) I participated in the PerMedCoE summer school: from pathway modeling tools to cell-level simulations 2023. It was a great opportunity to learn a lot about the mathematical modeling of intracellular processes and intercellular interactions.
Firstly – Let me briefly introduce my work – in my Ph.D., I study anti-CD19 CAR-T cell treatment of B-ALL, specifically the loss of CD19 surface expression and subsequent resistance to treatment. My background lies mostly in biostatistics/data science. During the workshops, I had an opportunity to get familiar with tools such as CARNIVAL, MaBoSS, or PhysiBoSS. They, contrary to my usual tools, facilitate mechanistic modeling of cellular processes, rather than interpreting levels of their activity. I cannot overstate the impact that this recently acquired knowledge will have on my future work. I am sure that extending my research with such analysis will improve the quality and extend the insight gained in my investigations. Moreover, in silico perturbation simulation of modeled pathways will be great as preliminary research and will serve as a guide for further in vitro experiments.
Another extremely helpful point on the agenda was the technical workshops on High-Performance Computing. They served not only as a great refresher of the technical skills but also were eye-opening in terms of how seemingly minor implementation changes may result in drastically different execution times.
All that being said, the most spectacular event of the whole week was the recreational hiking trip to the nearby city of Viladrau and the adjacent national park, filled with breathtaking sights and interesting facts provided by our guide. At some point, out of (almost literally) blue sky, an extremely heavy downpour started. In the middle of the forest and with nowhere to hide, all we could do was run to a restaurant about 15 minutes away. Although soaking wet, everybody was joking and laughing, probably reliving their childhood memories. In conclusion, thanks to the EMBL-EBI (I was awarded a travel grant for the School) I had not only an extremely productive but also amusing week. I've met many interesting people and had an opportunity to exchange ideas and expertise during networking events. To anybody considering participation next year – I can't recommend it high enough!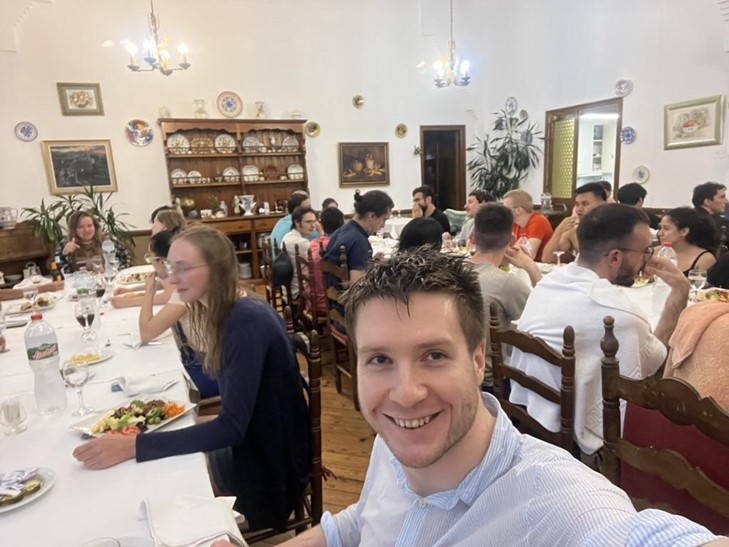 Sandeep Chenna, Royal College of Surgeons in Ireland (RCSI), Dublin, Ireland
I have been working with different computational modelling tools for nearly 4 years. I have good exposure in some approaches like kinetic modelling, genome scale metabolic modelling and no practical exposure with majority of the other approaches like Boolean models and agent-based models. I wanted to attend a workshop which would allow me to build upon the existing knowledge. The PerMedCoe summer school was exactly that, in short, I got exposure on a breadth of modelling approaches with both theoretical and detailed practical sessions. There were also sessions on HPC's and workflows, which will also be of use to me in my current work.
The best part of this workshop was that there were an ample number of opportunities (Created by organizing activities like bingo, long dinner sessions etc.) and time was given for interaction with both instructors and co-participants. The instructors were helpful and easier to approach for discussions regarding both the course content and my research. I also had an opportunity to work on a small project, and my project was on flux variability analysis, and it was well designed by taking into consideration the applicability in research settings.
The location of the workshop was very scenic, which allowed me to relax after a long day by having a nature walk (Please find attached a picture of the place around sunset) and well equipped, which allowed me to play a game of tennis on some days. In between, we were also taken for an excursion to an even more scenic and calming place, called Vildrau. This trip taught us modelers what George box meant by: All models are wrong, but some are useful. If there is even a slight prediction of rain by the model, make sure to take an umbrella! Overall, it was a great week, by the end of which I was both knowledge and rain drenched!
---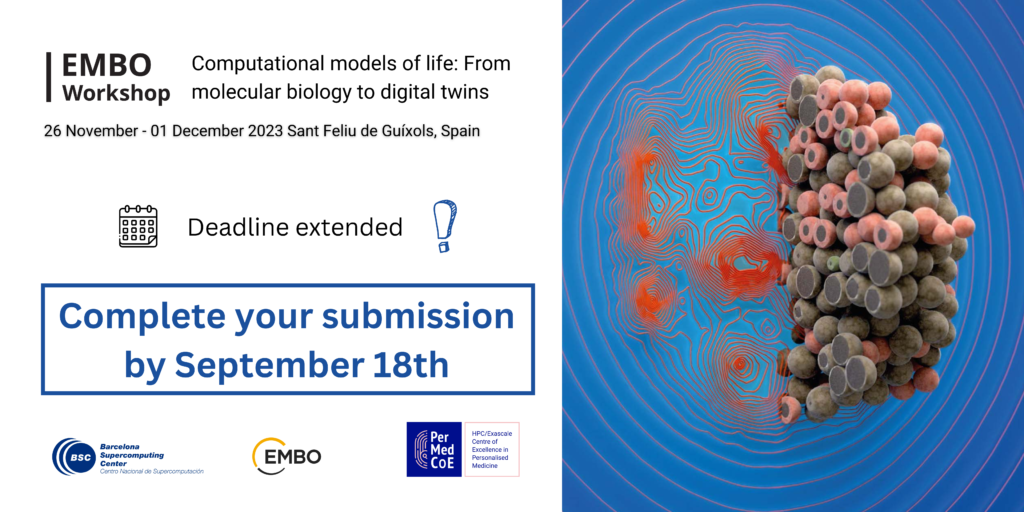 If you want to have a chance to embark on such a dynamic learning experience, make sure to check out more about the EMBO Workshop Computational models of life: From molecular biology to digital twins, scheduled on 26 Nov–1 Dec 2023 in Barcelona. PerMedCoE as one of the featured sponsors of the workshop is offering six grants to boost women's representation. Follow the link for more details and register before Sep 18th!